---
Closed for the 2023 Season
We thank you for a great 2023 season, and look forward to seeing you in the spring of 2024!
---
Welcome To The Friendly Farm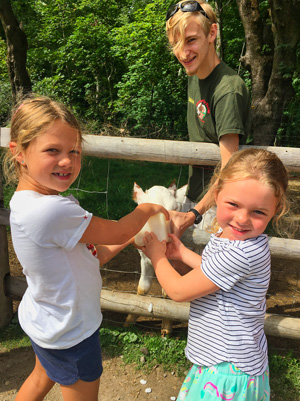 Imagine a place where people and animals mingle comfortably. Where you and your family can enjoy farm animals at their best - in a clean, natural and relaxed atmosphere. Such a place is The Friendly Farm.
Wander through five acres and enjoy some of the most agreeable animals you'll ever meet. Not only will you be able to see the animals up close — you'll soon find yourself wanting to pat and hug them.
Everyone enjoys feeding a baby goat, "oinking" at a pig, "gobbling" with a turkey, or patting a soft lamb. Most of our animals will be more than happy to eat right out of your hand.
Wander the grounds, have a picnic, learn something new. You'll find The Friendly Farm has something to offer for kids — of ALL ages!
---
Schools & Groups
We are now booking schools and groups for 2023. If you'd like to bring a group, please fill out this form to let us know.